Sorry Guysss =] ♥

Been watching too much Spike..hahaha loveee CSI:NY....gosh dead people look so cool i love their makeup effects...LOL sigh school resumes tomorrow...and yes i have procrastinated...didn't do my 5 page paper yet. >=[ So here's my week...in 5 minutes...LOL


Ok so BF, me and my sis + sis friend decided to drive to flushing to get some grub...at my favorite Korean BBQ place called Picnic Garden ;9 mmmm....
As you could see...we needed TWO GPS to get us there...sad.
OOOO you see my nails here...didnt take pics of it cus i forgot...i used China Glaze For Audrey for base color and for the tips i used CG OMG collection...LOVESSSS ♥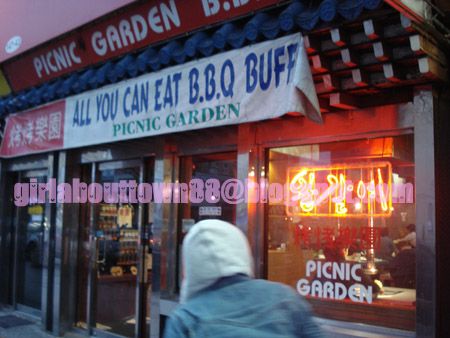 Yayyy finally got there...after..two hours? LOL from brooklyn...really now...sigh...and fatty sis's head there...LOL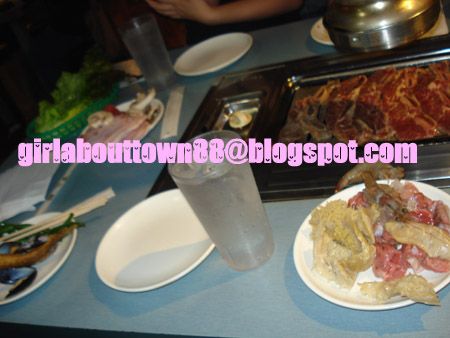 We sit and get ready to dine...ALL YOU CAN EAT ;D hahaha you bet i almost had to make them close down...with the amount that i consumed...LOL
A Carnivore's dream...and a vegetarian's nightmare...yummy in my tummy ;D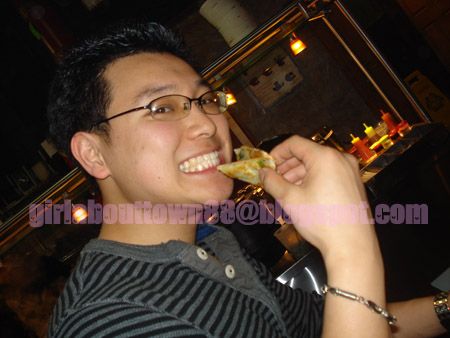 Thats my piggie munching on a pancake...yuck didn't like it one bit...tasted like cardboard.
My cooked beef wrapped in greens with some kinda sauce...yummm
Time for NOTW...lol nails of the week...cus i will NEVER do them everyday...but i dunno what made me do these designs...just went with my flow....LOL
BTW..funny story about the ring...i *stole* it maybe 6-7 years ago from my bestie Annie, and now it seems to represent her, my other bestie Anita, her bf Alan, and my bf Andrew...weird how all these A's are connected in my life...i seem to be attracting alot of them...LOL
So nails....woooo china glaze kaleidoscope...scope him out and rated...i think...LOL
Next hit up L&B'S in Brooklyn ;D the italian hotspot ;9 mmmmm yummy square pizzas....been munching on these since i was a wee lit`o one...LOL well...everysince my cousin started to drive like 12 years ago...
Speaking of cousins driving...hahaha my cousin scratched up his precious lexus...hehehe safe driver my tush ;D all that money...for your new car...wasted...hahahaha =x
Ok back to L&Bs mmmmm they got the yummiest frozen desserts ever! We ordered the Spumoni....its an italian ice cream icee sorta thing...weird but...really cool ;d
Hello Spumoni!! really funky if you try it the first time cus its not tangy like italian ices...it has the italian ice texture but it tastes just like ice cream...soo good ;D
my HOTD...hahaha heels of the day...and these DO NOT HURT AT ALL!!! thats why i ADORE STEVE MADDENS ;d and of course the boyfriend stuck to his stupid dunks. i stopped being a sneaker head ever since i graduated from HS. LOL i dunno...heels appeal more to me now...=]
So...we had a bad argument over something really silly...which was basically me being...over reactive towards him...and yet he still surprises me with a rose....
.....doesn't my rose loook sooooo artistic?
And...HENRI BENDEL CHOCOLATES!!! STRAWBERRY CREAM AND WHITE CHOCOLATE!! omg i couldn't eat these faster!!!! LOVEEED THEM!!!!
sighhh yep hes a keeper ;D
Ok on over to Dave and Busters...LOL the highlight of the night was when Carlos and Sarah Salazar took the future baby machine pic...and ended up with a white baby...LOL the funny thing is she's prego sooo who knows...maybe the baby would look like that...hehehehe
On over to Macys...they were having their annual flower show...and i LOVED it...sooo pretty...i wish my room was like that...sighhhh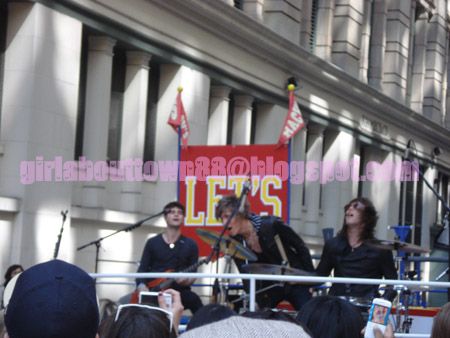 They had a Petacular Fair...with people's pets and all that...and they had that boy band Push Play perform...i really like their song covergirl, heartbreaker, and dreamer. GO LONG ISLAND!
Their crazed fans...jumping up and down...screaming i wanna have your babies..yea i was like that with N`SYNC...so i understand...LOL hey JUSTING TIMBERLAKE!!! I WANNA HAVE YOUR BABIES!!!
Aww what a cutie...so this is someone else's puppy...now Versus...my puppy....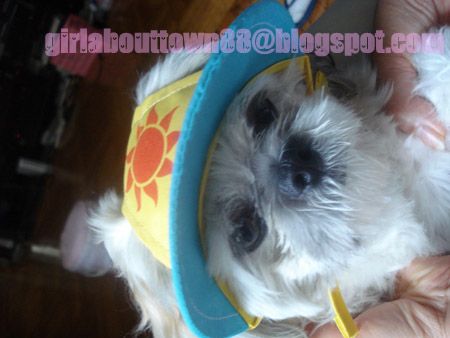 Here is my baby....Teeny ♥ so who wins? hehehehe soo cute with his little sun cap on...his ears flap out of the sides ;D
Oh and lastly...my LOVEEESSSS coworkers...man i wouldn't even go to work anymore without you guys!!! Elizabeth and Tamika i LOVEEEE you girls!!! We screw around more than work hahaha and we talk boys more than work...sigh ;D i totally blinged out our pic ;D likey or no likey?
anyways, allergy season is here...and i am in full blown sneeze fest. sooo no makeup until i stop rubbing my eyes and my nose stops running like a mumma flapper. LOVE YOU GUYS! i will try to keep updating as much as possible!

Toodles ♥