Hey ladies ;D

Haven't posted much lately, school is starting tomorrow...not excited about that BLEHHHH...LOL but...here's my nails all ready for Valentine's Day ;D I used Jordana ($1) Pink pearl and nail art polishes in gold and white to get this look.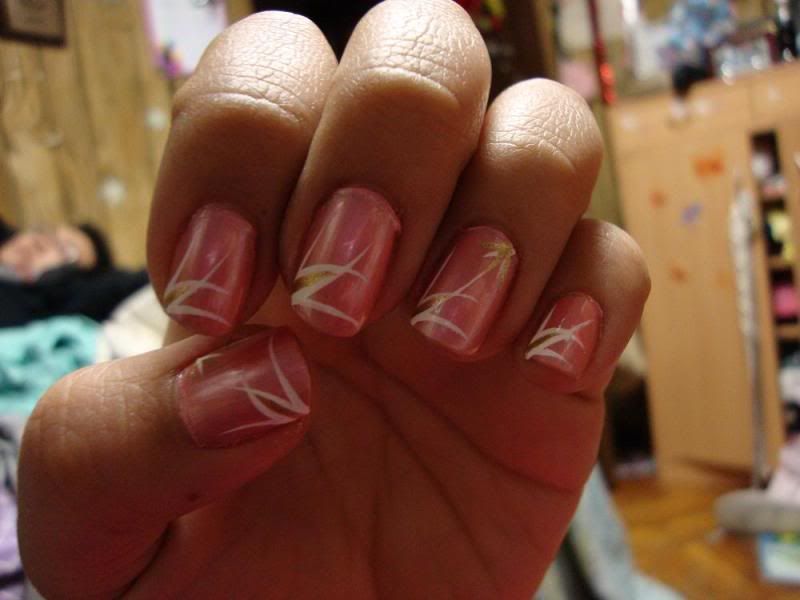 Very simple and easy small strokes ;] anyone can do this...really!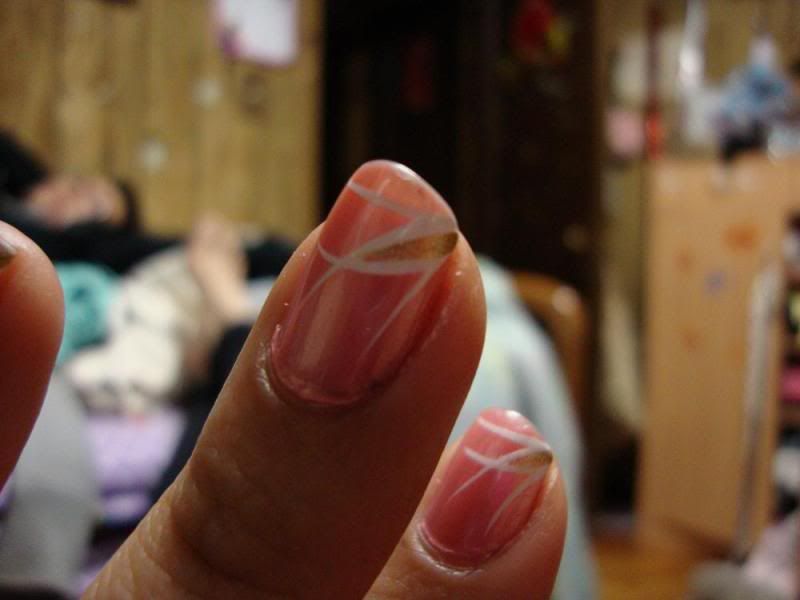 Up Close and Personal C=

Onto the Haul!!!
I really really wanted to get the Coach cosmetics but I waited too long and when I went to the Coach Outlet and found these on sale...i almost jumped for joy! i was bummed when the SA told me that there were 5 different shades around christmas but they sold out like crazy...sighhh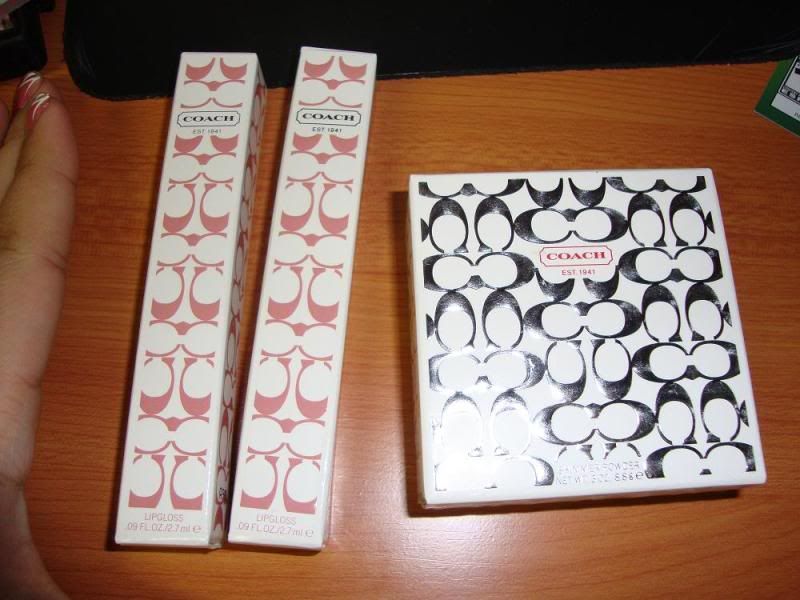 i got two lipglosses($10each, both peony, one for backup) and one shimmering powder($20) that i swatched at the store and fell in love with.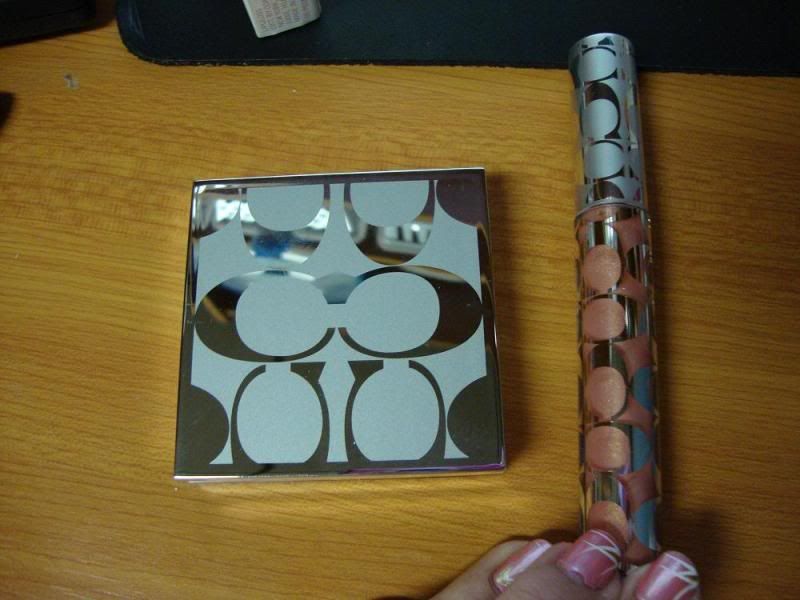 The packaging is amazing...i've always loved their signature C look...hate the new one that they came up with though...LOL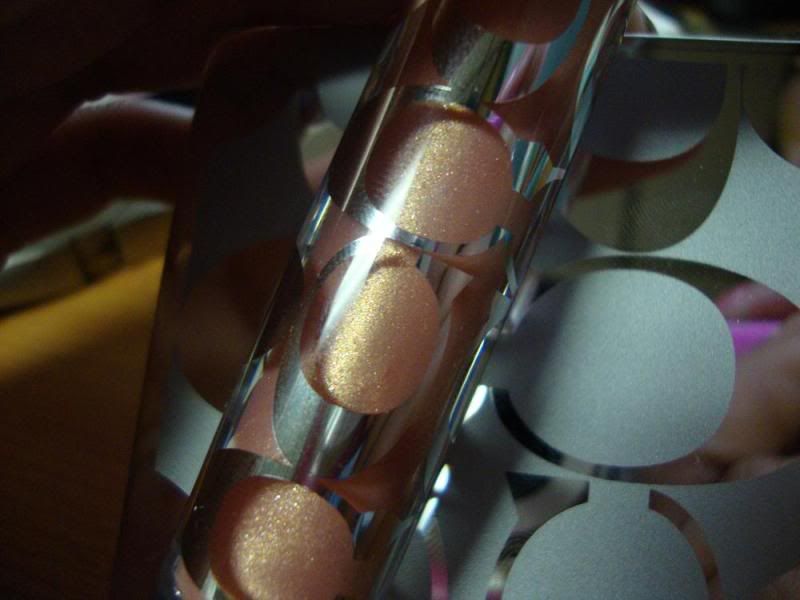 Color is amazing....Peachy Coral with small Gold reflects...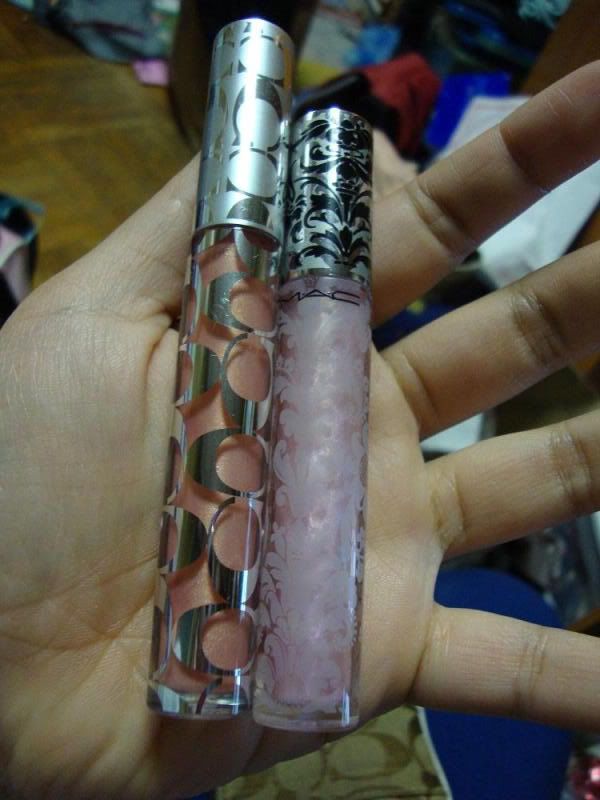 This is a size comparison between MAC's Preciousness and Coach's Peony =] Same weight size but Coach's is slightly larger ;D if they had more shades, i would've nabbed them all!!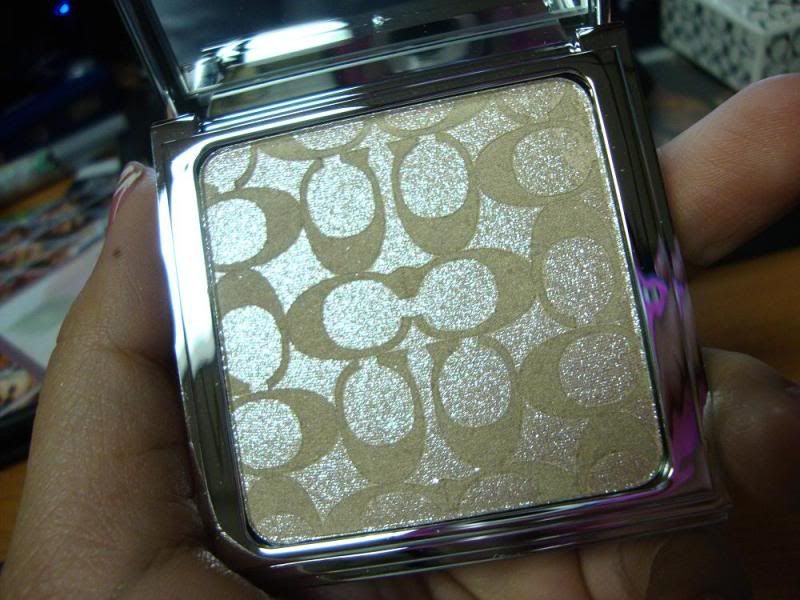 The shimmering powder is imensely gorgeous! it gives your cheeks/face the right highlight shimmer that looks like a real glow! got it for half price! now i really should've gotten another one!

MAC!


I got three things! one Mineralize blush, one MSF, and a studio fix(which i hate cus the MUA was wrong[again] about my skincolor and she gave me C6 which is too dark on me)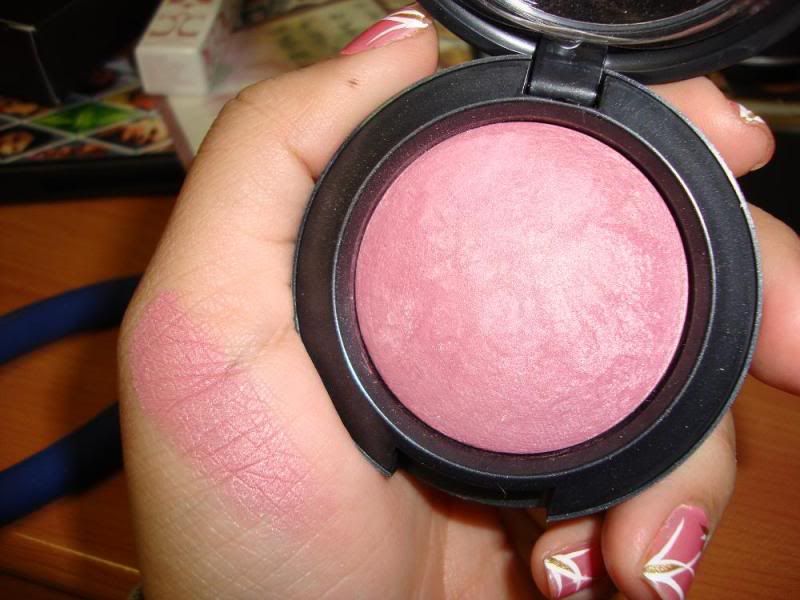 MinBlush in GENTLE!!! i saw this on display, swatched it and fell in love with it so i bought it! it looks really pink but it gives just the right amount of *just pinched* color on your cheeks!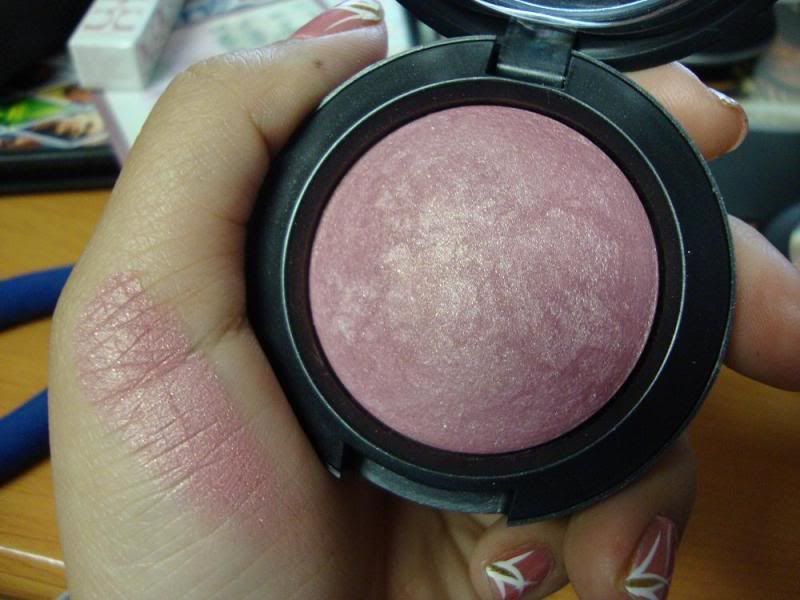 w/o flash you can see the gold undertone which is very faint since it has small silver reflects ;d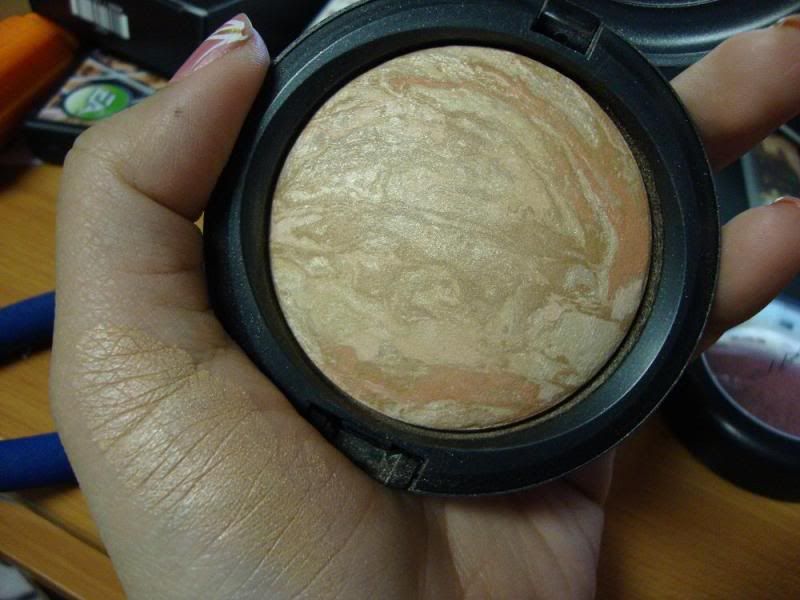 MSF in Refined - I LOVE LOVE LOVE LOVE LOVE THIS! it gives the perfect amount of glow to my face! new fav MSF!

I got this at the same place i got those amazing brushes ;D ICING! it was on clearance for $2.25.
I really really wanted My Private Jet Holo by OPI but i couldn't find it anywhere. When i saw this glittering in the bin, at first i thought it was the OPI but then it turns out to be Icing's own brand! it's a great dupe for MPJ since it's black with rainbow holos! it doesn't have as much holo's as MPJ though...i love this one especially for the price! but my search for MPJ shall continue!


The Boyfriend surprised me with a *Just Because* gift ♥ he knew that the camera he got me 3 years ago stopped working and i really really needed another one since my camera is my life and i loveee taking pics of everything and anything...so when it died, a part of me died with it! yea i know, so melodramatic but it's true since i almost always had my camera on me! I've been using my Sis's camera for about 2 weeks now and so he decided to get me another one! I always loved Sony's digicams and he got it....for no reason =] yea i know...*gushhhh ♥ ♥ ♥ ♥ ♥*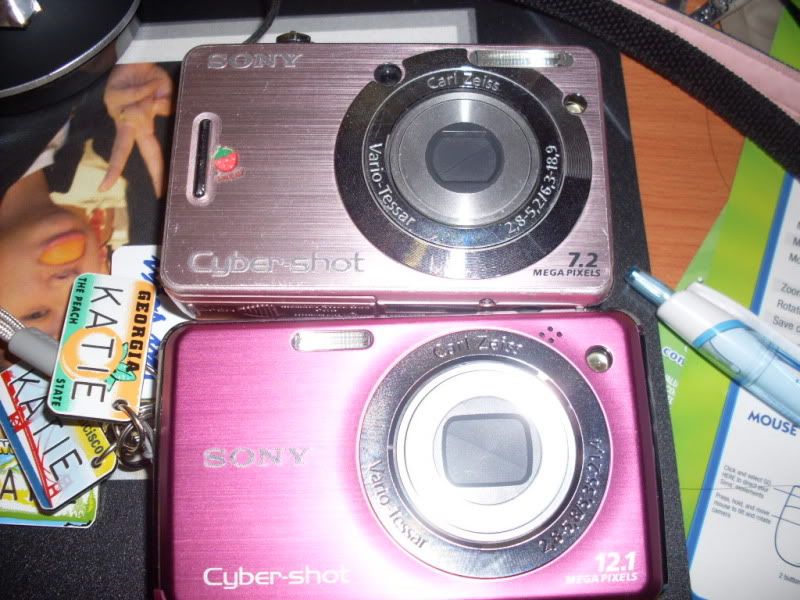 Old Vs New! Pale pink (old) Vs Hot pink (new) i have to say i lovee the hot pink!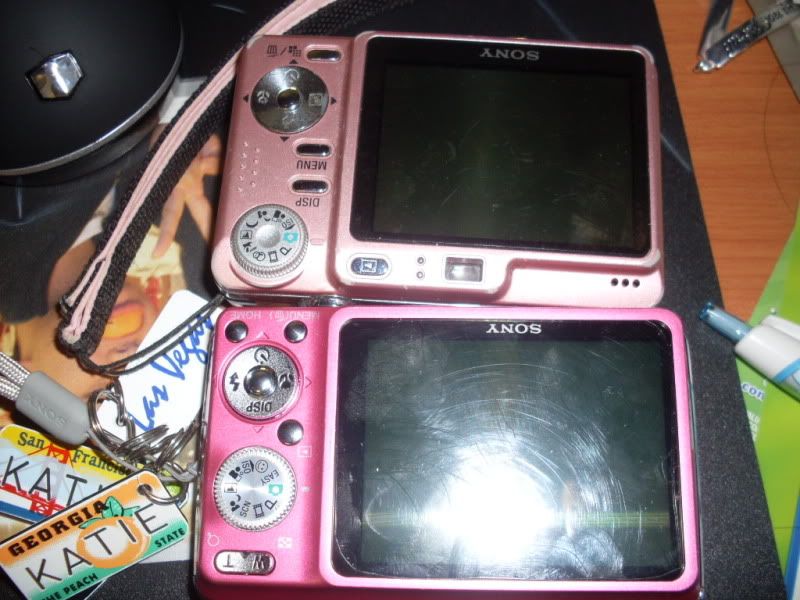 It's so much more clearer and i love it to pieces! I LOVE YOU SO MUCH BABE!!! THANKS FOR EVERYTHING! btw, i collect my name on mini license plate keychains from whereever i visited...if they have it...so far i only found four...since most places don't seem to carry them anymore...o well ;]


DONT FORGET TO ENTER GIVEAWAY! CLICK ME
ENDS FEB 14!

i still got my sephora haul to do...so until next time lovely ladies!

Toodles ♥