WooHoooo Lancome is having a freebie!! If you buy $29.50 worth of products, you get a bag and a few samples for FREE!!! i loveee when Macy's does this...hehehehe and you know i have to take advantage and get not one but TWOOOO cus they offer two colors of the bags!! hehe since summer is coming, i thought these would be nice as a beach tote...so i got the blue one for me, and the red one for the winner of the giveaway ;D

Soooo onto the haulage ;9

I got two lancome blushes which qualified for two gifts with purchases, three MAC lipsticks...mmm maccc........and also i got three more pairs of undies...i wanna show you guys cus it is sooo super cute! its called B'tempted...LOL cute brand as well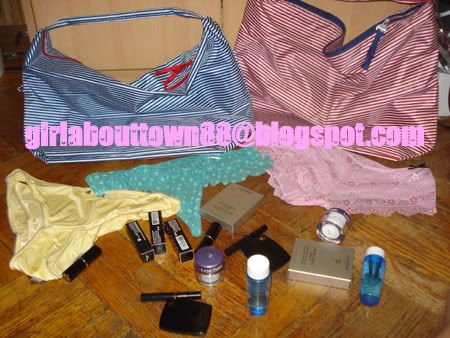 Here's just one of the GWP's...moisturizer, lipstick, eyeshadow, makeup remover, and mascara plus the bag ;D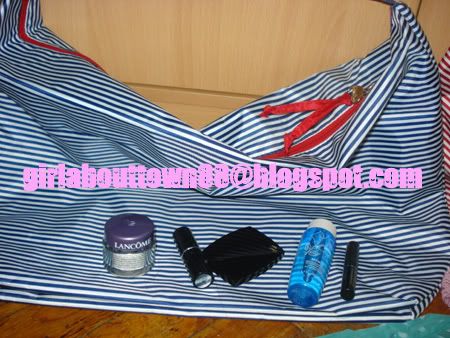 my favorites...why is this stupid thing underlining everything i type?
anyways...i love the eyeshadow...sooo cute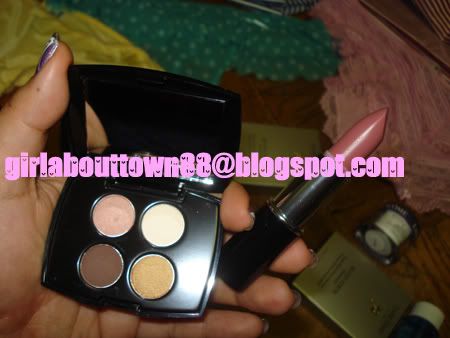 My blushes i bought...too pretty! i've been eyeing these two for such a long time...and i finally found the right moment to get them!! yay!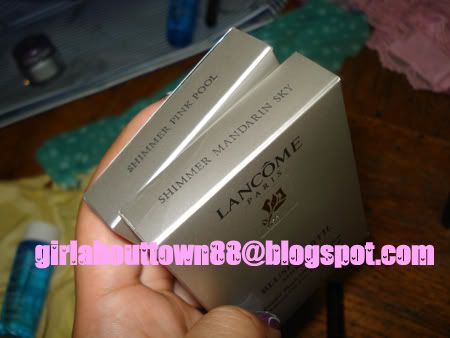 This is shimmer Mandarin Sky. It's a beautiful coral color...oo i love it! it has really fine gold shimmers..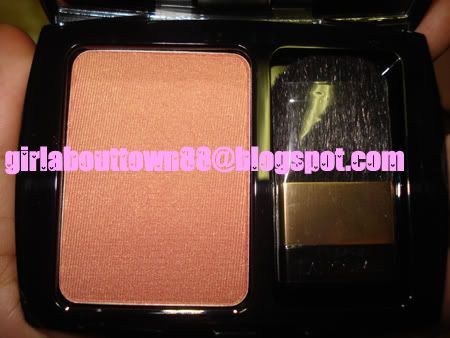 I've wanted this one for the longest...but i didnt wanna pay so much...but when this really good deal came, i had to get it...Shimmmer Pink Pool...really pretty pink with larger specks of silver sparkles!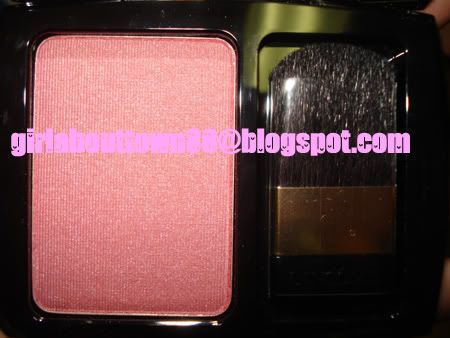 My MAC purchase...hehe or minihaul? LOL ok so i got another GIRL ABOUT TOWN, BIG BOW, AND STRAYIN...all of which i have...but i needed a backup for strayin b/c i'm really running LOW. i already have another back up for girl about town. so the GAT plus the Big Bow will go to miss/mr lucky giveaway winner!! c'mon girlies, my FAV lippie of all time is GAT (i.e. my username) so i have to include this into the giveaway right? rightttt...LOL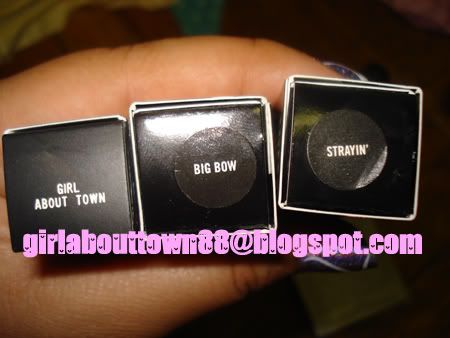 that was the purpose of me running into the counter of MAC...loll now i pair up the purchases with my OG ones...haha the original ones are so worn...sighhh look at my poor girl about town...LOL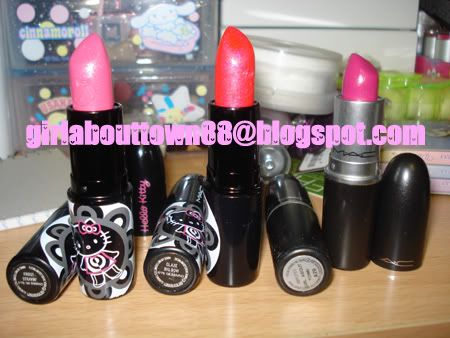 OKKKKKK LADIES!! THE PRIZES SO FAR!! I STILL GOTTA GET SOME MORE STUFF!!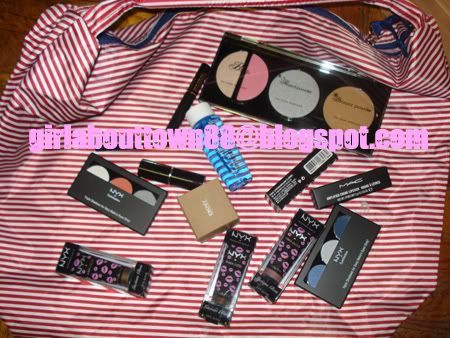 1 bag, 2 nyx trios, 3 nyx lip glosses, 2 MAC lipsticks(one HK one girl about town), DKNY mini little perfume bottle...SOOO CUTE!, estee lauder mascara(sample), lancome mascara(sample), lancome makeup remover (sample), a palette i bought but never used from the color workshop.
PLUSSSSSSS jewelry made by yours truly of the ones in the sets that you told me you like. i still have to go to get those cute little trinkets =]

CLICK HERE FOR THE GIVEAWAY

LADIES AND GENTS I CANNOT STRESS THIS ENOUGH!!! I WANNA SEE YOUR COLLECTIONS OF WHATEVER YOU TOLD ME ON THE COMMENTS! SHOW ME BY POSTING THOSE PICTURES ON YOUR BLOG AND THEN LINK IT BACK TO MINE!! THEN TELL ME TO GO LOOK FOR IT!! DO NOT COMMENT ON THIS POST GIVE ME ALL OF YOUR COMMENTS THAT YOU WANT TO ENTER INTO THE GIVEAWAY INTO CLICKABLE LINK UP THERE!!!

As of 5-25-09 @ 2:42AM eastern, only one person, CARAMEL DIVA has gotten it all correctly so she is the first person i will count towards the giveaway! lots of you guys commented but i want to see the pictures of your collections on your blogs!

please don't let something so simple stop you =] it is free makeup as a thanks to my readers and those who follow xD


haha just random = NOTD...pretty eh? i love china glaze ;s