I've been doing too many hauls haha yet i still have more to post ;D but, here's a review of my all time favorite face brushes...

ICING BRUSHES!!!!
They are uber affordable and they LAST FOREVER! For under $20, you get 4 high quality brushes since they are almost always buy 1 get 1 half off...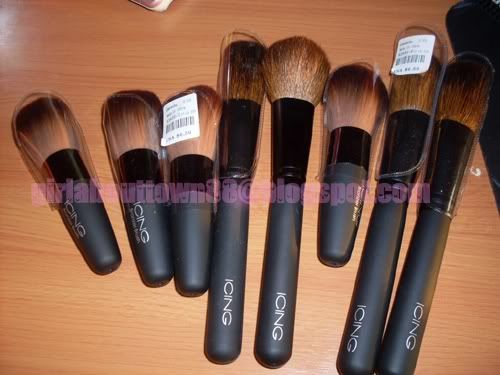 The quality is amazing...they're even better than some of the sephora brushes i've tried....these are wayyy softer and feels better on my skin...i dont like how some brushes leave you kinda scratched up...these are truly amazing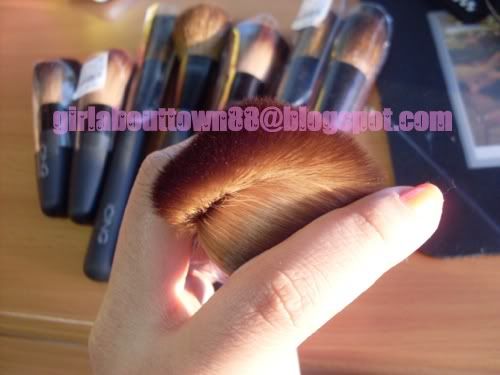 It's thick and full unlike some brushes i got from Clinique, which were thin, flimsy, and not soft at all...for $6.50 a pop, i stocked up...haha ;D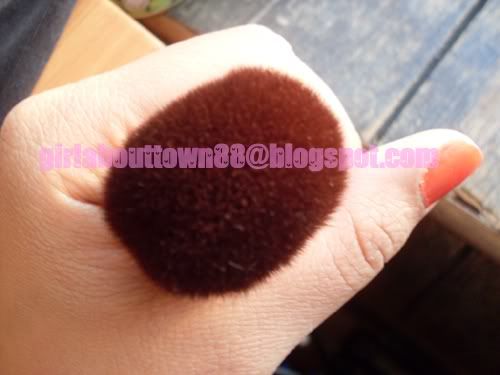 The handle is long and feels very comfortable to hold, i use mine for everything from powders to blushes...i loveeee these brushes! they are simply the most amazing deal yet noone seems to talk about them!





More Haulage! MISSHA!!!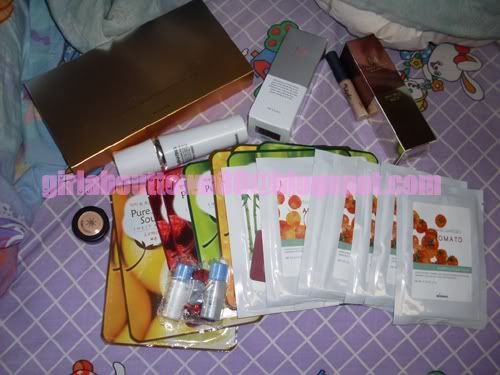 What i got: BB Cream in No.31 (i know i'm dark -.-')($29.99), liqiud and regular concealer($5.99 EACH), and my purchase came with a free full size 4 in 1 BB cream($19.99) =] Let me know if you guys want a review on the white package one(4in1) and i'll do one after i try it out ;D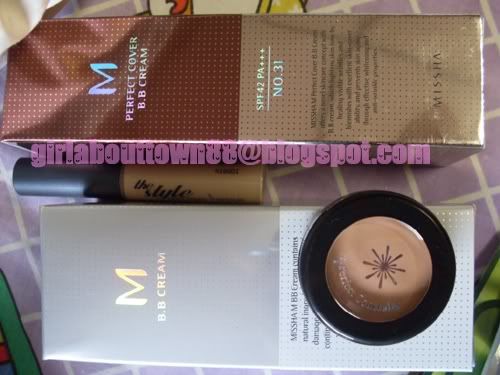 I also got the Illuminating Essence($7.00 clearance) which clears dark spots and helps return to your natural skin tone...hmm gotta try it haha ;s Plus i got a free deluxe sampler with purchase ;D so much free stuff ;D haha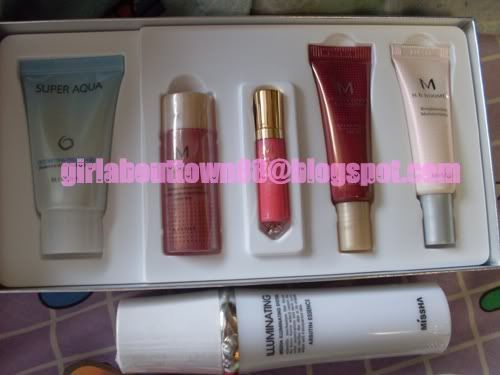 Lately, after trying my mom's shishedo sheet masks, I've fallen in love and I bought ALOT from Missha since i heard they were really good!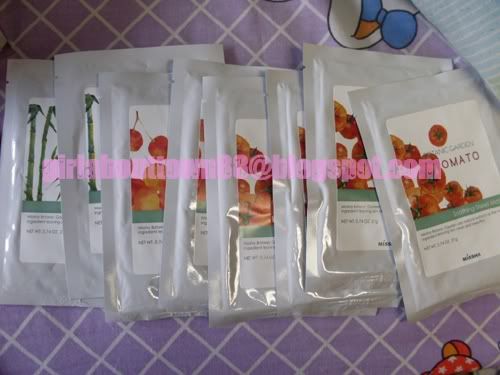 Botanic Garden Colleciton i got the bamboo, acerola, and Tomato! ONLY $0.90 EACH!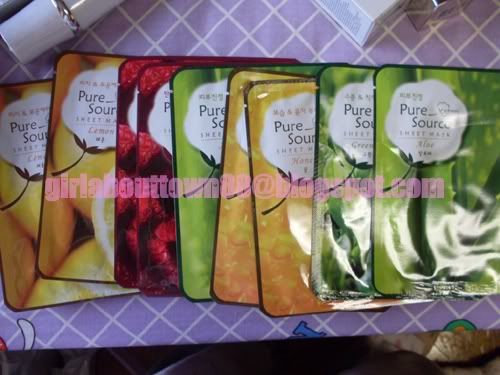 Pure Source I got Lemon, Raspberry, Green Tea, Honey and Aloe! ONLY $2 EACH!!! It also came with a free mini toner and cleanser, plus a free mini mirror for your cell phone ;D Shipipng was amazing, it came in less than 4 days with processing ;] I'm a happy camper!~





With my new found sheet mask love, I ventured out to Little Chinatown right here in Brooklyn and found this little store selling these My Beauty Diary Masks ;D LIMITED EDITIONS ARE MY FAVORITE!!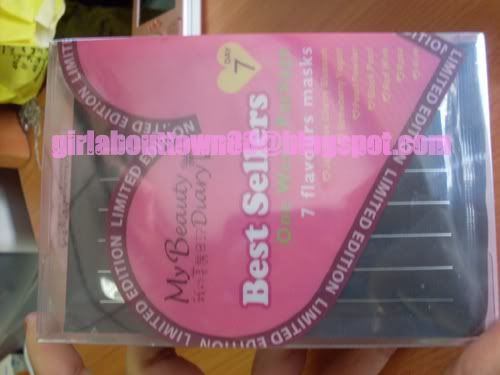 This special pack was what i was looking for...i wanted to try this brand after hearing rave reviews and it came with one of some of their basic sheet masks...
Aloe, Bulgarian White Rose, Red Vine, Black Pearl, Pearl Powder, Strawberry Yogurt, and Japanese Cherry Blossom =] yay! They smell divine C=
I also picked up these Bihada Masks in Sara(pink), Triple Moist(Yellow with 2 girls), Rumiko(Beige), and Saki(Periwinkle). I've never tried these but they were highly recommended ^^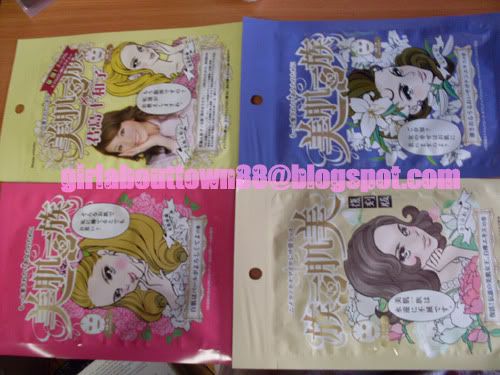 Onto tidbits of my personal life, i miss my boyfriend terribly. He went back to SoCal to visit his mom for a week. Haha yet i miss him so much...i wonder how san fran is right now? Babes, stay safe, and as always, I'll Love you forever ♥ lol he looks so dorky in this pic...but he's so husky in real life ^^i gush about him alot to my friends because he is truly one amazing boyfriend...hehe tell you ladies in the future about our story =] it truly sounds like fiction, what i call my life...because our story is like something out of a fairy tale ♥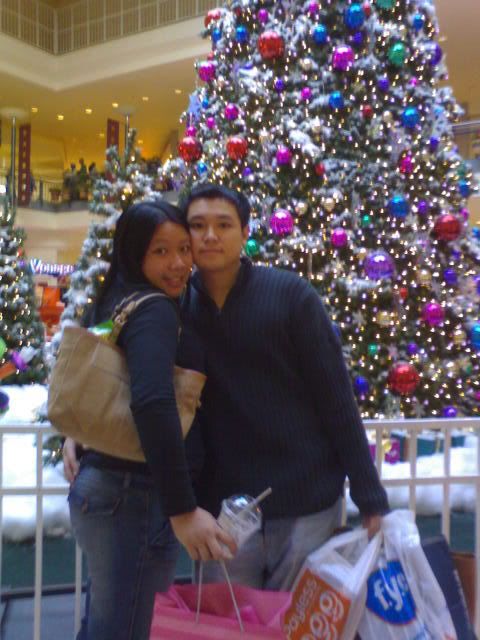 So until next time Loves, Take Care! I got a MAJOR sephora haul coming up...plus what my fav Christmas presents were...haha late i know but better than never ;]
Toodles ♥