First review for my blog will be on Benefit Primpcess. This is from their holiday collection.
So this is what the front of it looks like. Sorry that the pic is not as clear.
A little look-see in the insides...hehe i used the boi-ing concealer so much =]


Close up you see the three eyeshadows, two brushes, concealer, eye brightener, cream shadow, and my mascara!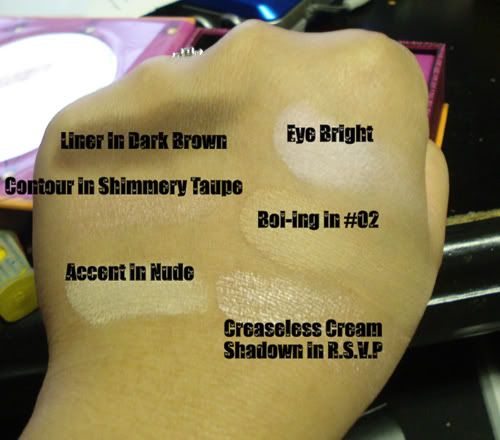 Swatches of all of the products. I like to use the eye bright in the corner of my eyes near my tear ducts because it makes my eyes POP. I use the concealer as a primer for eyeshadow because it works really well and it keeps the shadows on. The creaseless cream shadow is really good as a base since it gives that nice shimmer. It could also be a good highlight. As for the three shadows, I haven't used them yet so if i do, i will take pics.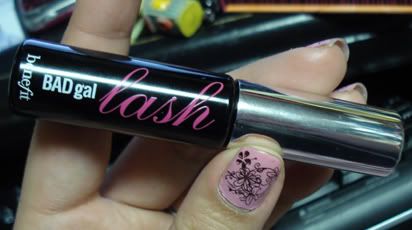 I really like this mascara because it makes my lashes seem so much longer and thicker. The big brush makes it very easy to reach each and every lash and it stays on for a long time without smudging. I definately will buy the regular size for this.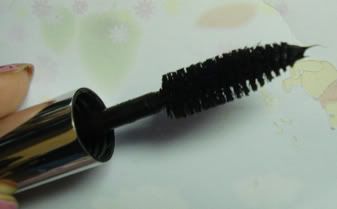 So this is the big brush. It doesnt seem like it here but it actually is bigger than most of my mascara brushes. really easy to use and it holds alot of the product on it. Now, as for the brushes, blogger doesnt seem to let me upload that pic so...I will just explain it. The concealer brush is very stiff and sturdy and it works well for concealer but also an eye liner brush. The Talent brush is a softer version of the concealer brush and I use it to put some cream shadows on. The fluff shadow works really well as a shadow brush since as it's name says, it is fluffy and it could pack on a lot of product.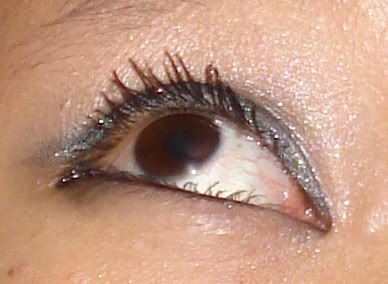 Thats me wearing the bad gal lash, R.S.V.P as base, and a hint of boi-ing as primer. I also used the dark brown shadow for the bottom edge of my eyes. As for the shadow on my lids, they are victoria's secret beauty rush but they will be for next time!
Review Grade: A-
The minus is for not having the concealer in a jar since it seems to dry out a little bit every time i try to use it. But all in all, it is a great product!
Toodles <3