WARNING: SUPER LONG POST!!

Hey ladiesss =] went a little crazy at MAC but i should right? since i've been through so much shit lately haha i let myself get w/e i wanted...sighhh ;D hurt my wallet but it healed the heart a little ;9
First, MAC damage...yes that's my pink hearts PJ and my pink snowflakes booties...LOL can you tell i love pink? haha i went into MAC knowing what i wanted but bought more than i anticipated...LOL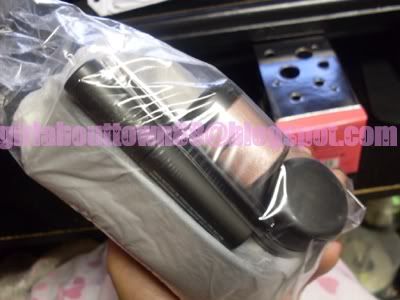 First thing was the Naughty Noir holiday eye set...i love the cute little baggie although i would've prefered it in pink...haha but i got it anyways cus i really wanted to try the gel liner...never had one before...also wanted to try their mascara so...this was a good package deal...LOL
yay i got one more pigment! it's the same one as the cool capers one...called "Shimmer Time" sighh i was hoping for another one but it's the same...LOL
From the Baroque Boudior i got "Preciousness" which is currently sold out on MACcosmetics.com...I LOVED IT THE MOMENT I LAYED MY GREEDY EYES ON IT! i wanted Prive but they were sold out of that one at the store...so i got my grubby hands on this lipgloss...the packaging is simply AMAZING! it's so unique and pretty with the frosty overlay...sighhh...LOL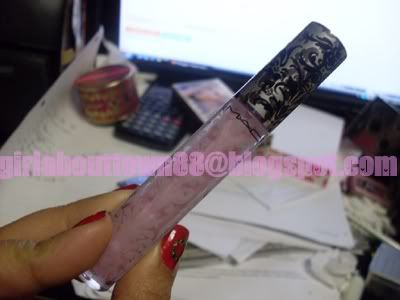 I really didn't want to pay $22 for a lipgloss or a lipstick but the packaging was just so unique and captivating...plus the color is immensely amazing...it's light pink with light lavendar shimmers...i cannot explain it it's simply that amazing...once i saw the unique color, i had to have it...even though $22 is alot for just lipgloss...but...i fell in deep deep loveee haha ;9
i also fell in love with this eyeshadow from their Style Black collection called "Cinderfella"...its also sold out on the website...but i lovee how it's mineralized and it gives a really amazing shimmer...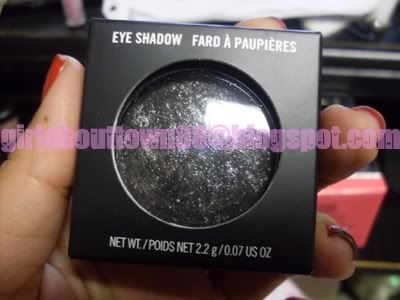 Tried it in the store and i couldn't walk away from it...LOL its so pretty...dark black with an overlay of silver shimmers....i lovee it cus it's so pigmented and only one swipe and i could cover my entire lid...LOVEEEE =]
I only got one pigment set...i got "Cool Capers" and i loveee the pink colors...i also love the teal...so cute it's called deep blue green and it's the perfect color...reminds me of a mermaid...LOL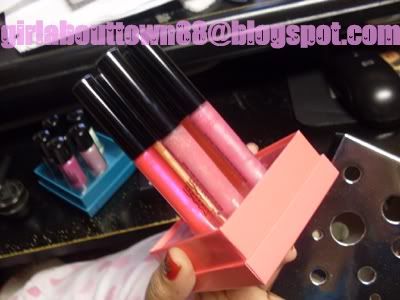 Lip Set called "Frisky Business" i got two of these cus the lady messed up...so i don't like returning stuff so i'll just give it to one of you ladies!!! JOIN THE GIVEAWAY!!! i only got a few people joining so far...so do it soon!! ♥
Holiday Nails!!! i did christmas lights, a christmas tree and a wreath ;D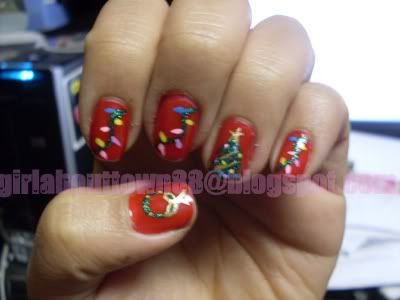 up close and personal!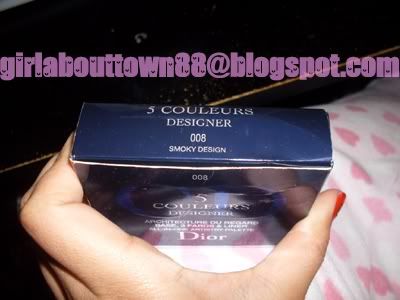 I got this from Sephora before the summer...=] i loveee the smoky design cus of the colors! it's definitely my favorite eyeshadows brand...more than mac ;x haha cus it's sooooo much smoother and more pigmented...but then again it's also so much more expensive =\
the cover thingie with the case
my favorite eyeshadow set of all time....mmm i love you! this was my second dior eyeshadow set and it was sold out all summer and now sephora has it in stock again on their website =] and believe me these are the best shadows ever...my MAC shadows sometimes gets rough and bumpy and doesn't cling to my brush right sometimes...yet dior never does that to me...they are the best!
Onto the VS HAUL ;D
Stuff ;D i've always been a VS Makeup fan...so this haul was perfectly for me x]
I loveeee this scent...but i didnt want the perfume so i just got the mist..it was only $10 ;D
The real reason i went to VS...to get the heidi klum collection for VS makeup...the packaging is amazing and you guys know i'm a sucker for cute packaging...
these are surprisingly not that pigmented on your face which is good since you don't want to look like a baboon...LOL
i love heidi klum, she's so pretty and always so bubbly and happy...=]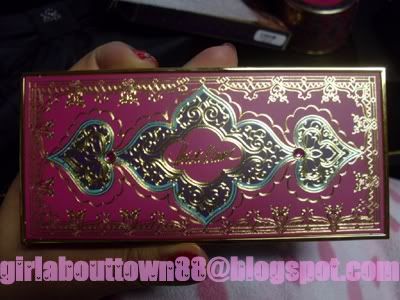 isn't the design amazing? i love all the colors and the bollywood feel ;D
the colors are very wearable...the left side for more of the daytime and the right side for the nighttime C=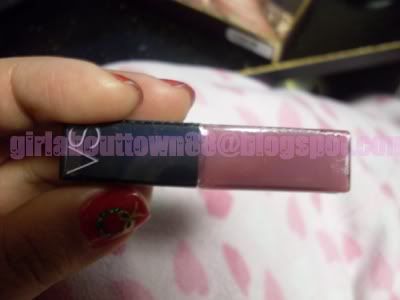 I got this lipgloss in "blush" for free...LOL just cus i flashed my VS VIP card...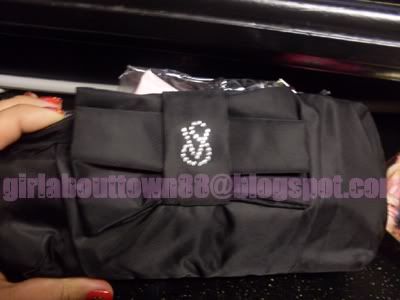 also got this clutch and sample set for $15
it's a mirror, "fierce" eyeshadow that i have 3 of already cus it's one of my favorites, love rocks perfume, lipgloss, and the Noir body lotion which i really like xT hehehe i'm gonna include some of these things in the giveaway....haha =B
SO ALL IN ALL, retail therapy did me better than any psychologist could ever do...LOL made me ten times happier and less annoyed...HAHA ;]
For news on my personal life, me and the Boyfriend just bought a used car together...LOL we needed one since i think my dad's car is gonna be in the shop for a while...i loveee this car! but it sucks since NYC is really really really cold right now...in the mid 20's...sighhh so we gotta wait a couple of months before we could put the top down and just chill heheee ;D
He's so happy in our car...in my backyard haha ♥
I've been with this man for 4+ years...buying a car is the beginning to wanting to spend the rest of our lives together...I LOVE YOU BUN!
OHHHH MOTO AND MIUMIU I WILL BE SENDING OUT THE PACKAGES ON MONDAY!! i wanna give Ms Cheyser a chance to get to me before i go to the post office...=]
Giveaway Details!!!
I FORGOT TO POST WHEN THE GIVEAWAY ENDS!!!
ENDS FEBRUARY 14!!!!! so hop to it ladies ;D haha i will include extra goodies if more people enter...follow this link to comment there...if you wanna enter, comment on the original post...not this one!!! i may not count it if you comment on this post about the giveaway...LOL
I'M GIVING THIS SET AWAY SINCE I GOT TWO!! PLUS SOME MORE GOODIES